Faces in the Queue: Disney's Gifts to a World in Fear
The only thing we have to fear is… fear itself!
~ Franklin D. Roosevelt
Today our nation marks the tenth anniversary of the 9/11 terrorist attacks. In the aftermath of that horrific day many were gripped with a debilitating fear they had never before experienced.  Previously enjoyable activities such as vacationing and travel were suddenly fraught with anxiety and dread. Many Americans, fearing subsequent attacks, cancelled their travel plans altogether.
Meet Eileen…
As Fate would have it, my sister Eileen was planning her family's first trip to Walt Disney World when the real world was turned upside down on September 11, 2001.  Despite numerous objections from friends, co-workers and especially our parents, Eileen and her husband Werner made the decision not to cancel – they flew with their five year-old daughter Catie to Orlando in early December of that year.
* * * * * * * * *
Kathy:  Tell me about what you were feeling about going to Walt Disney World in   the weeks following 9/11.
Eileen: Everyone had cancelled travel plans and almost everyone was giving us flak about traveling so soon after the attacks.
Kathy:  Like who?
Eileen:  Everyone! Friends, people at work. Mom and Dad gave us a really hard time; they were worried.  I remember Mom saying, "Disney is an American institutuion — a prime target! They could be hit next!"  But it was my first time going to Disney and Catie's too!  I couldn't cancel.
Kathy:  Were you nervous about flying on a plane?
Eileen:  We actually felt safe because there was such heightened security. There were armed soldiers in the airports and it was a sight we weren't used to here, although we had seen that in Europe.  Catie actually thought it was cool!
I do remember thinking, "Well, if the plane does go down then at least my husband and daughter and I would all die together!"
Kathy:  Oh, great!
Eileen:  (laughs) Well, yes, that would be terrible for the rest of the family, but we wouldn't know the difference!
Seriously, though, I wasn't going to let them get the best of us. It wasn't just the excitement of going to Disney for the first time that kept me from cancelling. I feel that terrorism can only be effective if it does shut things down. I wasn't about to give the terrorists what they wanted — us living in fear — and Werner felt exactly the same way.
Kathy:  Catie was only five at the time; did she understand what had just happened on 9/11?
Eileen:   We had some serious conversations with her; two kids at her school lost parents that day so they were talking about it at school as well. I remember that she kept asking why someone would want to do such a terrible thing.
I felt that we needed to show her that life was going back to normal. Disney was something exciting; something she could be happy about. There had been so much sadness. On top of that, to say we're not going to Disney– it would've added so much to that sadness.
Kathy:  I recall you saying how wonderful all the Cast Members were; that so many of them actually thanked you for coming …
Eileen: Yes, everyone was so reassuring.  I believe it was the first time they did bag checking before entering the parks. They had characters entertaining everyone while they stood on line for bag check; it was as if they were trying to make it up to us for the delay. Cast Members everywhere thanked us for coming and for not cancelling our vacation and there was this real sense of community among the guests.
Kathy:  What were some of your favorite memories of that trip?
After a long day of travel we finally arrived at the Caribbean Beach Resort. Even though we were tired we dropped our bags and went straight to the Magic Kingdom so we could catch the end of Extra Magic Hours.  We entered the park and walked right into the SpectroMagic Parade! And the park was all decorated for Christmas!  It was like walking into extreme happiness; a real counterbalance to all the gloom we had been experiencing.  Walking into the Magic Kingdom that first night – the feeling was the complete opposite of the 9/11 experience.
Kathy:  Did you have any negative experiences?
Eileen:  I remember that at the time we had been advised to arrive at the airport a then-ridiculous three hours ahead of our flight. The bus picked us up 4 hours before our flight and I remember being so annoyed! If it hadn't been for all the extra security we could have had more time at Disney!
Kathy:  What about Catie? What does she remember most about her first trip?
Eileen:  Her absolute favorite was the Castle show, Cinderella's Surprise Celebration. We watched it 13 times!
Looking back now I realize there was a therapeutic aspect to that show.  The villians try to take over the castle, but all the good guys come out and drive them away.  At that time we all needed some reassurance that good would always conquer evil.
From AllEars.net:
Cinderella's Surprise Celebration!
Cinderella is the hostess with the mostess in this Castle Forecourt Show which debuted October 1, 2001. Many of your favorite characters participate in the show.
Cinderella begins by greeting everyone. With the help of her Fairy Godmother and everyone in the audience, she invites her old friends to join her in a gift giving party to celebrate 100 Years of Magic!
Gifts are brought on stage, including the Gift of Romance and Laughter. But wait, the Old Hag suddenly appears with a gift of her own – it's an Apple! She disappears as quickly as she appeared.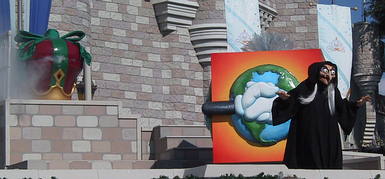 There's lots of commotion around one beautifully wrapped gift! Woo Hoo! Here comes Mickey Mouse to join the party! Minnie opens the Gift of Romance for Mickey!
The stage is filled with Belle and Beast, Snow White and Prince Charming, Cinderella and ….even Chip and Dale come out to join the celebration.  But Donald just has to see what's inside the present wrapped like an apple, so he climbs up the stairs. Everyone shouts NO, Donald, NO! But he opens the gift anyway!
Oh no, the Villains are taking over the Castle! It's Captain Hook and the Evil Witch!
The audience has one final gift to open, the Gift of Courage! Peter Pan fights Captain Hook, Mulan comes to fight off Shan Yu, the spell on Donald is broken and everyone returns for a final celebration!
 * * * * * * * * * *
Eileen: The characters would come out after the show for a meet-and-greet.  One time, Genie (from Aladdin) grabbed Catie's hand and went skipping across the courtyard with her. I thought, "This looks like a Disney commercial!" It was a perfect magical moment.  It felt so good to be able to offer a 5 year- old something joyful after all that fear.
It was a good decision and a great trip.
* * * * * * * * * *
I'm never prouder to see our cast uphold the vision than during times of uncertainty like those we face now. Because no matter what is happening around us, it is certain that time together with family and loved ones in a place like Walt Disney World is truly well spent.
~ Al Weiss, President of Worldwide Operations for Walt Disney Parks and Resorts
As I join my fellow Americans in this day of reflection I remember that Disney gave us many gifts in the aftermath of terrible tragedy: the gift of Hope, the gift of Courage, and ultimately, the gift of Faith in the goodness of humanity.
* * * * * * * * * *
Kathleen Kelly tweets Disney and Autism @KathyKellyRN
She blogs at The Many Adventures of a Disney-Lovin' Spectrum Mom