Edited, August 14, 2012
The news of Nolan Woodall's passing has shocked and deeply saddened everyone in the Disney Fan Community. I am so grateful that I had the opportunity to know him and to call him my friend.
Kathy Kelly
* * * * * * * * * *
(This article was originally published May 4, 2012.)
Most people will tell you their earliest childhood memory of Walt Disney World is the time they first caught a glimpse of Cinderella Castle or first hugged Mickey Mouse.
Twenty-nine year old Nolan Woodall's earliest Disney memory was getting his head stuck in a trash can!
"My grandparents were with us," Nolan recounts. "I was probably around six or so." And as grandparents are fond of doing, they would not let the excited little boy get up from the table until he cleaned his plate – all of it.  "The next thing I remember was running to the nearest trash can to…well…you know," he says, laughing. "And my head got stuck!"
Fortunately, The Trash Can Incident did not squelch Nolan's enthusiasm; he went on to have loads of fun with his family. It would take more than a little protein spill to discourage the six year-old who had already survived two risky open heart surgeries! Born with a congenital heart defect, Nolan underwent his first surgery when he was only three days old. By the age of eighteen he would endure three more, the last for implantation of a pacemaker that would help regulate his heart rate and rhythm.
During this time Nolan visited Walt Disney World three or four more times, even getting in a little side trip after his High School Band was invited to perform at City Walk at Universal Orlando. "I played percussion; sideline percussion."  Upon his graduation he decided to study culinary arts and was thrilled to be accepted to the Disney College Program in the fall of 2004! For six months he worked a Cast Member at Pinocchio's Village Haus in the Magic Kingdom but, unfortunately, he discovered that his cardiac and respiratory symptoms were aggravated by long hours working on his feet in the heat of the kitchen, and he was forced to abandon his dream of becoming a chef.
He doesn't regret his experience in the College Program, however, because it gave him an inside look at the workings of the Walt Disney World Company.  "Cast Members are taught to treat all guests as though they are special; it's all about making everyone's experience magical," he says. "We were trained to take time to listen [to guests], to be open-minded and understanding, especially if they had health issues."
Over the next few years Nolan's cardiac condition worsened and eventually he was not able to work at all. "The doctors say that most people with my kind of heart defects don't often live past their 30's," he admitted. "But what am I going to do — sit around and mope all day?"  He draws much-needed emotional support from his mother and his older sister, whom he refers to as his "rock." They encourage him to stay involved with the things he loves such as sports (especially baseball), cooking and the Disney online community.
A difficult blow came when doctors told him that he was not a good candidate for a heart replacement and that they would continue to help him as best they could doing "patch jobs" on his heart. Two years ago he developed Congestive Heart Failure which necessitated the intermittent use of oxygen and more medication to help his heart pump more effectively.  He was not about to let that get him down, however, and strived to stay as active and involved as his health would allow.
A loyal listener of the WDW Radio podcast, he became excited when he learned of a special "Dream Cruise" for Disney fans that would be sailing in March, 2011. Although the prospect of a solo cruise might have been overwhelming for the typical person with cardiac-related activity intolerance, Nolan was determined to travel independently — and he had a blast!
"It was great to meet so many friends that I had only known online," he says. "[The Disney Community] is a great community!"  Many of the cruisers, including Nolan, had made arrangements to continue the magic with a stay at the Walt Disney World Resort post- cruise. The theme parks, however, were more spread out than the Disney Dream and touring them with his friends would involve much more walking. He wisely decided to utilize an electronic convenience vehicle (ECV) while at WDW so that he could keep up with his friends and not become over-tired and short of breath.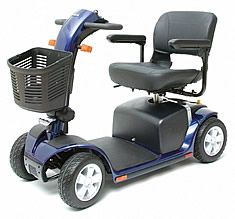 "I got some interesting looks," Nolan admits. "You don't normally see a young person on an ECV."  He recalls the time a fellow guest made a thoughtless remark after he boarded a Disney bus with his ECV and then transferred to one of the seats. "I guess you're faking it today," the man said. Nolan took the high road and shrugged it off. "Not everyone considers that a person who looks fairly normal could have [an invisible] disability," he says.
There is another WDW Radio Dream Cruise coming up this November (2012) and Nolan is already signed up! This time, however, there will be a few changes. First, he'll be utilizing his new power wheelchair and oxygen while on the cruise. Second, he will not be traveling solo – his sister will be making the cruise as well!
"I can't wait to show her the Disney Dream," Nolan says. "It's her first time on a cruise and I'm really looking forward to it – I know she's going to love it!" Spending quality time with family and friends has become increasingly important to Nolan as he continues to manage his health issues with good humor and a positive attitude.
His ultimate Disney-related goal is to someday visit Disneyland in California. "I would love to one day see the original park; that would be really cool."
Nolan, I think you're pretty darn cool, yourself!
~ Kathleen Kelly
 * * * * * * * * * * * * 
On Twitter you can connect with Nolan at @Dis_Nolan where he sometimes tweets unusual ideas for new Disney menu items – "This came to me at 5:30am this morning, seriously. Think chicken & waffles, now put ears on the waffles and make the chicken a turkey leg" — and on Facebook at Nolan Woodall.
 * * * * * * * * * * * *
You can connect with me @KathyKellyRN on Twitter – I blog about Disney and Autism at The Many Adventures of a Disney-Lovin' Spectrum Mom.
Thanks for reading!
Share