Mickey and the 2009 NY Yankees: Yin and Yang!
I was watching a baseball game with my husband the other night and we started reminiscing about the trip we made to Walt Disney World in the fall of 2009. Now, in order to fully appreciate this story you must first understand is that Ed is a huge fan of the Disney parks but an even bigger fan of the New York Yankees! Imagine his excitement when the Yankees won the American League championship that October – and his dismay upon learning that much of the World Series would be played during the same week as our Disney trip!
Fortunately, he was able to catch Games One and Two before we left. The Yankees lost to the Philadelphia Phillies 6-1 in Game One, but rallied in Game Two, defeating the Phillies 3-1.  After that, it got tough. Game Three fell on the night of October 31st – the second night of our trip and the night we had tickets Mickey's Not-So-Scary Halloween Party! Daddy "took one for the team," however, and went along with us to the party as planned.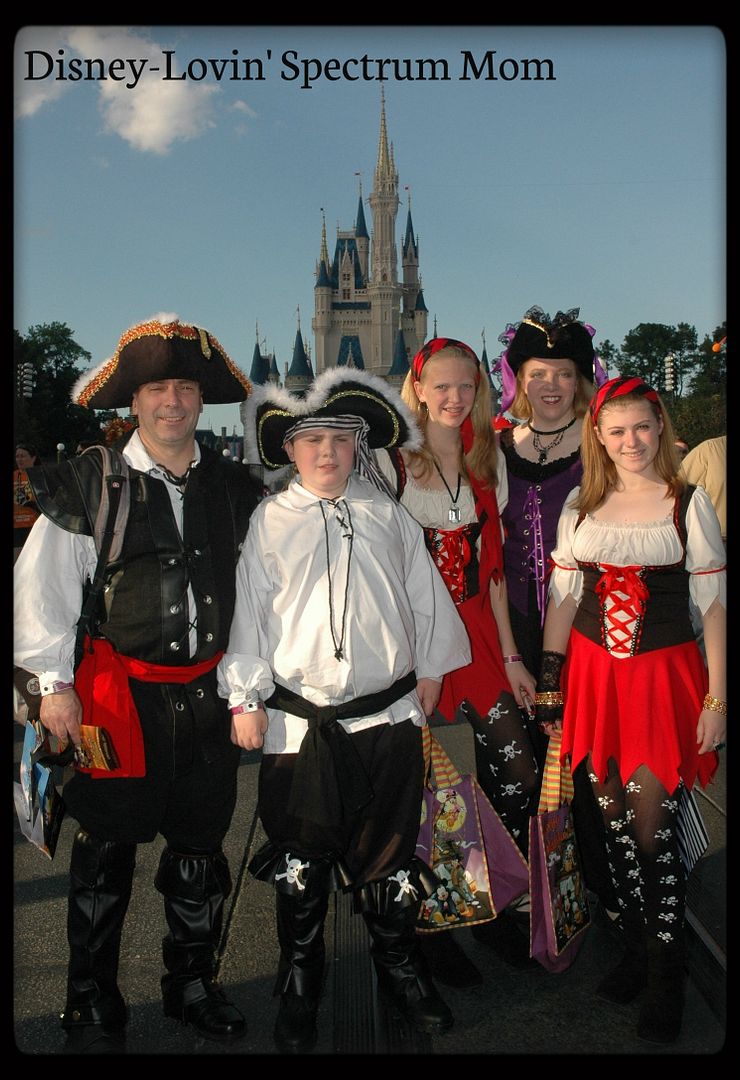 *
The start of the game was postponed 80 minutes do to a rain delay, so Ed hoped he might have the slimmest of chances to catch the last inning when we got back to our resort. Well, no such luck!  Our "team" closed out the party and did not return home to Kidani Village until past midnight, so he missed the exciting Yankee win, 8-5. (He did manage to get updates throughout the night from other daddies who brought their smart phones to the party.)
The following day we took it easy after staying out so late. We had a lovely dinner at LeCellier in Epcot and called it an early night as our son had come down with a fever and a cold.  We made it back to our resort in time for Ed to watch Yankee pitcher Mariano Rivera earn his second save of the series in the bottom of the ninth inning of Game Four. The Yankees now led the series 3-1! But the following night our hopes were dashed when the Phillies drew upon their home field advantage to stay alive in Game Five and pulled out an 8-6 win. Now baseball fans would be treated to the first Game Six in a World Series since 2003.
The next morning, November 4th, I took my daughter and niece to the Magic Kingdom and let the boys sleep in. (Our son still wasn't feeling too well and Ed felt he might be coming down with a cold, too.)  They met up with us that afternoon in Town Square. My husband scratched his head, complaining that he had not found time to get a haircut before we left home. A light bulb literally appeared above my head…
"Why don't you get your hair cut right now," I suggested, motioning to the Harmony Barber Shop. Much to my surprise, he didn't balk. "Maybe I'll ask them to shave the Yankees logo into the side of my head," he joked. Well, if you knew what a normally serious guy my husband is then you would understand the family's reaction to this. This was so out of character for him that I suddenly looked at him as though he had two heads. The girls began jumping up and down; laughing and egging him on with "Do it! Do it!"  The only one who wasn't into the idea was my son, who has autism and abhors getting his hair cut. He became a bit anxious as we made our way into the barber shop, but was comforted by repeated reassurances that it would be Daddy getting the buzzer, not him!  
*
*
There were a few customers ahead of us but we were happy to take a seat in the air-conditioned shop and wait. We were entertained by the antics of Chip & Dale as they posed for pictures with guests outside our window.
Eventually it was Ed's turn. Penny, the CM who would be cutting his hair told us that she wouldn't be able to buzz the logo into the haircut. She could, however, cut his hair and then use blue gel to make a design. This was an acceptable substitute and so she proceeded to give him a not-so-hidden Mickey, comprised of three "baseballs"…
*
*
*
Personally, I thought they looked less like baseballs and more like Yin-Yang symbols but, no matter. The kids were pleased and for the rest of the afternoon and evening Ed got a slew of compliments on his new good luck charm!  
*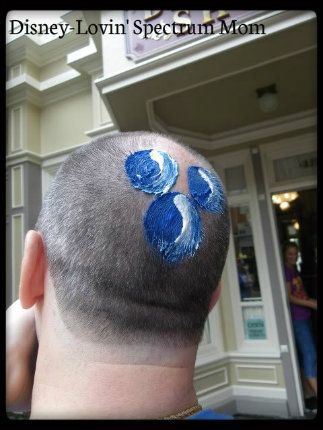 *
After a fun character dinner at Chef Mickey's I finally gave in.  Ed had been such a trooper about missing so much of the Series; I felt he deserved to stay in and watch this pivotal game. After all, if the Yankees won this one they would take the Series! We hopped a bus back to our resort and I took the girls for a nighttime swim at the Kidani pool, leaving the boys to relax in front of the television. Game Six was still on when we returned and we watched the exciting conclusion together. The Yankees beat the Phillies 7-3, clinching the World Series four games to two!  
Behold — the power of the Yin-Yang Mickey!
*  *  *  *  *  *  *  *  *  *  *  *  *  *  *  *  *  *  *  *
Kathy Kelly blogs about Disney and Autism at Disney-Lovin Spectrum Mom. Connect with her on Twitter @KathyKellyRN and on Facebook at Disney-Lovin' Spectrum Mom